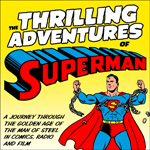 The latest episode (Episode 39) of
The Thrilling Adventures of Superman
has been released by Michael Bradley, and this episode guest stars me!
It's an episode that's been a long time coming, folks. This episode, Michael and I take a look at the first six episodes of the Superman radio show! We begin with the destruction of Krypton and follow Superman all the way through his first adventure on Earth! It's a great set of episodes and a great conversation worthy of Superman's first steps off of the printed page. Plus: This episode, Michael makes a big announcement concerning the future of the podcast!
You can subscribe to Michael's show via his iTunes or the RSS feed. You can also d
ownload the episode directly here. I want to thank Michael again for having me on. If you aren't already listening to his show, I urge you to give it a try.